A Different Thanksgiving Celebration
I'll do my best to find new ways for us to have joy at home, but it will be hard.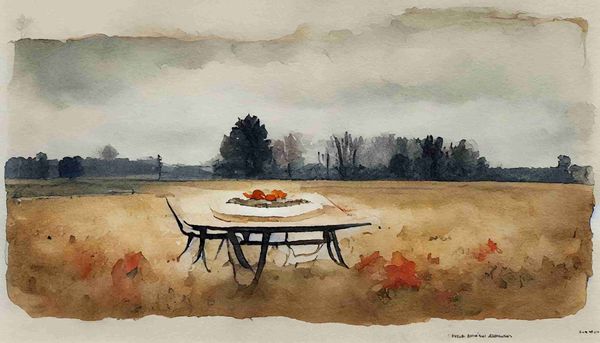 Our Thanksgiving was only our household this year. As we have been doing for eight months now, we followed public health guidance regarding social gatherings.
I'd briefly considered having one other family join us. We have been celebrating with them for years. It would require weather cooperation so that we could eat outside with tables spaced far apart, and it would be "bring-your-own-food." But then our state made a strong recommendation to not do any gatherings, and the other family went into self-imposed quarantine after taking a road trip.
As Thanksgiving is a moveable feast, photos have been popping up for days, reminding me of Thanksgivings past. From gathering with family to our long-standing tradition with friends, it has always been a day filled with warmth.
Knowing it would be only the five of us, I tried to make it enjoyable. Each family member was in charge of one part of the meal. Quentin wanted dessert, and he chose ice cream (mint chocolate chip and strawberry, with chocolate syrup and maraschino cherries). Theo wanted to make bacon-wrapped brussels sprouts. We rarely do turkey anyway since Ger favors a roast. And I replaced my usual risotto with a pre-made quiche from Whole Foods that I would only need to pop into the oven.
Even with planning out the timing of rotating food through the oven and eating crackers with fun dips throughout the day, I had a sense that the day was like any other. The kids have had Thanksgiving break all week, so no remote learning. We have been filling the days with a marathon of The Great British Baking Show, and Thanksgiving was no exception.
Usually, I would be cleaning the house in preparation for our guests to arrive. I picked up a bit - mostly because I had nothing else to do - but there was no bustle of preparation.
I did some online shopping. I took a nap.
We sat down to eat at about 4:00 p.m. I used the woven placemats that my grandmother made for me many years ago. I used cloth napkins with napkin holders.
We have a "thankerchief" made by one of the kids in preschool a long time ago. It is a simple white cloth splattered with red, orange, and yellow paint. Every year it is passed around, and everyone says what they are thankful for. However, saying what we are thankful for is part of our dinner ritual every night. Other than the addition of the thankerchief, it lacked the sharing that usually comes with guests.
After dinner, we watched some of the Macy's Thanksgiving Day Parade that had been live earlier in the day. It was fun to see the tradition kept alive, albeit scaled-down, with no spectators, and masks. We loved a clip of the cast of Hamilton performing.
At the end, the final float was Santa on a giant sleigh. Autumn's eyes lit up. At three years old, this is the first year that she has an awareness of Santa. She shrieked and pointed at the tv, "Look, Santa! It's Santa!"
Santa's appearance at the end of the parade marks the arrival of the holiday season. Today we will pull out our Christmas decorations and transform our house. But I also know that the sense of loss I felt on Thanksgiving - of missing the things that we love - will be felt again and again over the next several weeks.
I'll do my best to find new ways for us to have joy at home, but it will be hard. I love the rituals that we have built up around Christmas over the years. Even as an adult, it remains a magical time for me.
It will be difficult to keep everyone's spirits up as we pass each event that we normally associate with Christmas, like going to the museum Christmas tree display or a Brunch with the Grinch through the park district. I feel like I have the responsibility of carrying the entire household through the season.