Saying Goodbye to Libby
I had to make a decision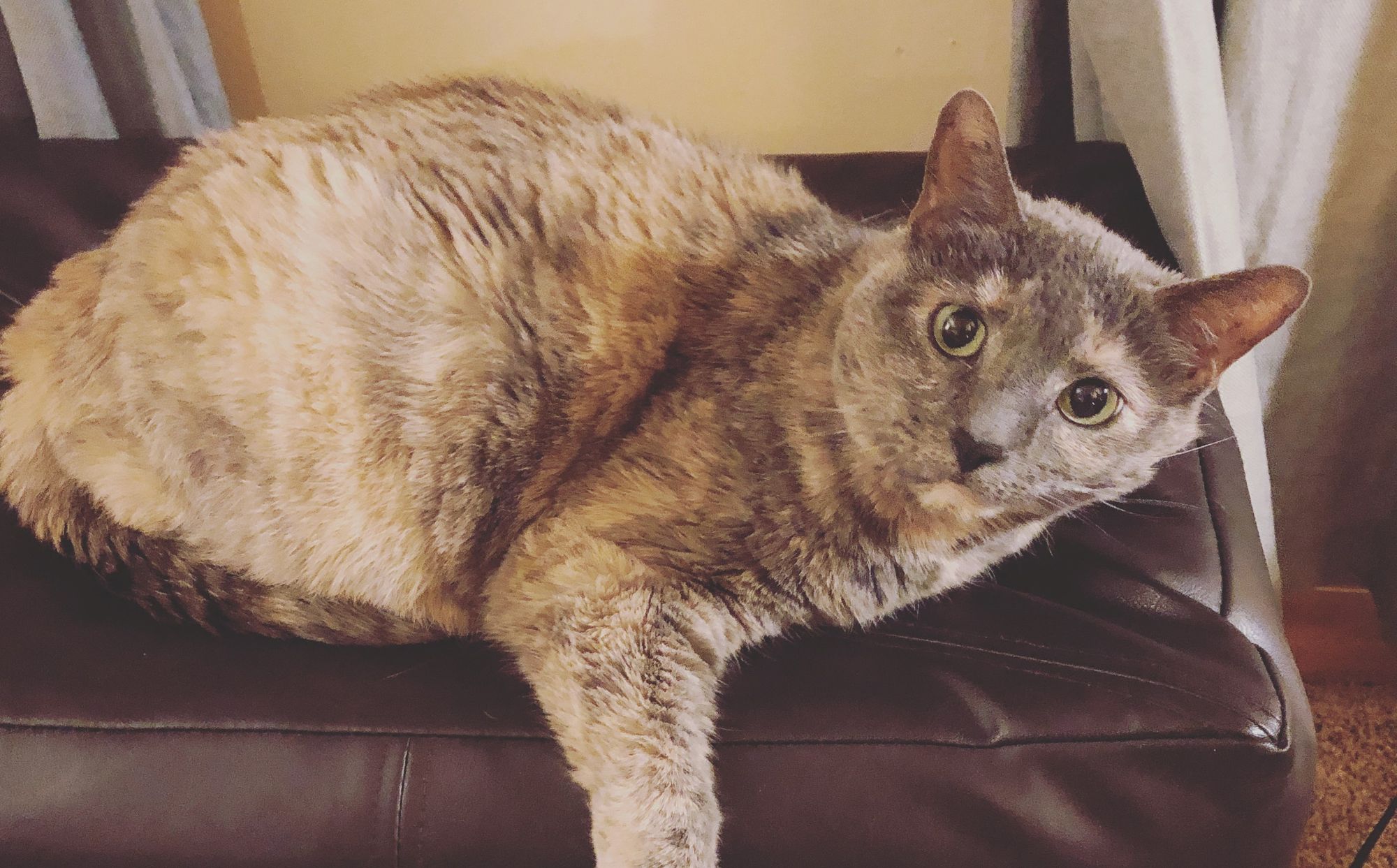 I knew as an adult that I would have a cat.  I grew up with cats.  As soon as Ger and I moved into an apartment that allowed pets in 2008, we adopted two 4-month-old kittens from a local shelter.  Huge fans of the tv show "LOST" at the time, we named the kittens Hurley and Libby.
Hurley was always adventurous — so much so that he tried to escape every time the door opened.  When we bought this house in 2013, I finally stopped fighting it.  After all, we had a fenced-in backyard.  Hurley loved being outside.  But somehow, he managed to find a way to escape the fence and ran away.
It was devastating at the time, but a huge transformation came over Libby.  When her brother was around, she was always overshadowed.  Hurley was a very in-your-face cat, so she would usually sit quietly in a corner and observe.  Once he was gone, she came out of her shell.  She wasn't the shy or demure cat we had perceived her to be.  When we had guests come over, she would always come out to greet them, sitting on laps and purring.
Last fall, when Libby turned 12, I started to think about another cat.  I know that indoor cats can live a long time, but I thought "What if?  What if something happens to her, and suddenly I am without a pet?"  On Labor Day weekend, we brought home a 15-month-old cat named Midna.  Not quite as energetic as a kitten, but definitely young, she and Libby were not instant friends.  It took months before they were able to tolerate being in the same room, but Libby slowly came around.  Sometimes they would even sit "near" each other.
At the beginning of this pandemic, I felt like both cats were stressed.  They were used to the kids being gone all day and a quiet house, and suddenly all five humans were home all the time.  After a while though, I began to wonder if Libby's stress was something more.  I noticed that her fur looked somewhat greasy.  Cats are meticulous and spend half of their days cleaning themselves.  I knew that if she wasn't grooming herself that something was wrong.
I made an appointment and took her to the vet.  Due to Covid, I had to wait in my car during the exam.  The vet called and told me that from her regular checkup about a year ago, she had lost two pounds.  Libby had long been overweight, so I hadn't noticed this.  The vet also said that he thought her heart sounded muffled, and ordered x-rays and blood work.  A few days later I got the results: a mass on her lungs, and blood work that indicated that she likely had lung cancer.
The vet said that we could try to keep her comfortable.  He prescribed pain medication and told me what to watch for: signs that she was getting worse.  I asked if she was in pain, and he told me that the medication would help, but that cats are also notoriously good at hiding their ailments.
I decided to tell the kids that Libby's time with us was limited, even though we didn't know exactly how much time she had left.  The kids cried.  But I administered the daily medication, and the weeks plugged along.  Libby spent most of her day lying in one chair in the sunroom.
Then about ten days ago, I noticed a spot of missing hair on her neck.  I called and talked to a vet tech, who thought that she might be in pain and licking the area.  I continued to observe.  Her fur was looking worse.  I was positive she had lost more weight.  She wasn't using the litter box at all.  She vomited a few times.
I called the vet yesterday, ahead of her follow-up appointment today.  I knew it was time.  I wanted to see if she could be put to sleep at her appointment, and described what I was seeing.  The tech I spoke to said that they couldn't commit to that; they needed to do a "quality of life" exam first.
So then I had to make a decision.  If I didn't tell the kids in advance, and found out during the appointment, I would feel compelled to bring her home to say goodbye.  Which would be incredibly hard for me, but the right thing to do for the kids.  Instead, I opted to tell the kids last night that Libby had an exam today, and that likely we were going to need to say goodbye.  I said that I didn't think she was eating much, and we didn't want her to be in pain.  There was more crying.  
We brought her outside, which is one of her favorite things.  She sat with us on our outdoor benches, and we took a lot of pictures, hugging her and petting her.
This morning, as the kids left for their day camp.  I reminded them to say goodbye to Libby one more time.  At 9:15, I put Libby in her carrier and drove to the vet.  I spent about 5 minutes with her in the parking lot, crying and petting her.  She poked her head out of the carrier and purred.  Then a tech came out and took her inside.
The vet called me after a few minutes.  He asked me to talk about how she had been at home, and I told him what I had seen.  He said that she had lost another pound of weight in the few weeks since she had last been seen, and concurred that "it is time."  He went through all of the words that I had been telling myself about how we don't want her to suffer.  He asked if I was ready to put her to sleep now, and I said that I was.  I was going to be allowed inside the building, mask on, to be with her.
When I got into the exam room, they had Libby wrapped up in a blanket.  I was given a little glass jar of some of her fur.  The vet asked if I had been through this before, and I said that I'd had cats put to sleep, but it had always been my parents who had made that decision and I had never been present.  He assured me that it would be quick.  The vet tech and I continued to pet Libby and stroke her head.  Libby kept purring.  The medication was administered and within a few seconds, the vet listened to her heart and told me that she was gone.
Even with knowing that this was going to happen, even with being pretty certain that it would happen today, I still felt shock as I left the vet's office with an empty cat carrier.  I felt like I wanted to throw up.  And I have to prepare to pick up my kids from camp and tell them that Libby is gone.
Libby was with me for most of my adult life.  She was there through the losses of babies, grandparents, strains in my marriage, and sad days.  Animals always seem to know when their humans are hurting and Libby was no exception.
As I've been sitting on my bed, crying, Midna came over and sat next to me.  Because she also knows when her human is hurting.