When a Leap Is Too Much
I was really proud of my 5-year-old for knowing her limits.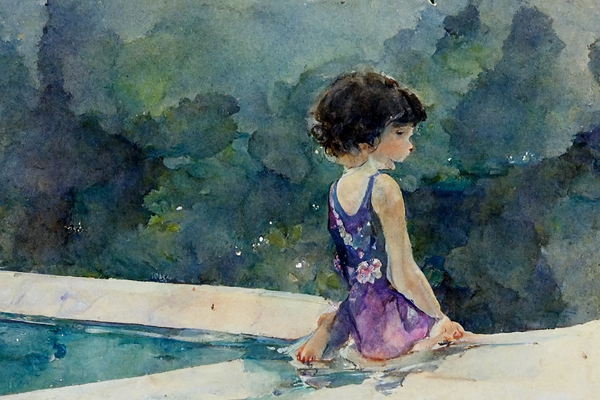 Last weekend, I took Autumn to a birthday party at an indoor trampoline park.
Even though this was just a party for one of her kindergarten classmates, it was a momentous occasion. It was the first friend birthday party she's attended. She was 2.5 years old when the pandemic started and she spent more than a year at home, not attending preschool. She was invited to a party last summer but the birthday girl got Covid so we didn't attend.
Autumn talked about the upcoming party nonstop for weeks. She had it marked on the calendar and would note the day: "It's the 25th. And the party is on the 28th." Even though she would be jumping around at this trampoline park, she insisted on wearing a party dress (with pants underneath) and bows in her hair.
The trampoline park had a few diving boards. Kids could take a leap from the diving board into a pit of foam cubes or onto a giant soft pillow. Motivated by her friends, Autumn climbed the ladder. She crawled on her hands and knees to the end of the diving board.
But at the end, she hesitated. Looked down into the pit of foam cubes. Then she turned around and lowered herself from the diving board. When she was hanging only by her fingertips, she let go.
She was determined to jump from the end of the diving board, but a leap seemed like too much. Instead, she took a small, more measured jump.
From the larger diving board (onto the giant pillow), she crawled to the end, took one look at the height, and crawled back to the ladder. I could almost hear the thoughts in her head as she reached the end of the diving board: Nope, not doing that. Outside of my comfort zone.
I was really proud of her for knowing her limits. She wanted to try something new, but was also scared. So she found a way to do it in a way that felt safe and secure for her. She also didn't let her friends pressure her into jumping from the diving board when she wasn't ready.
I thought about my own "leaps" over the past few years. It has been — somewhat unintentionally — a crawl, walk, run approach.
Yes, I changed careers and that was a big pivot. But I started at a crawl, getting a stable job, taking the lowest level role as a content marketer.
I took on a few freelance clients from companies that approached me, but wasn't actively seeking additional work.
Then I realized that I had skills to offer beyond my limited years of experience. Time to walk.
And finally, I made the leap and went out on my own as a freelancer. Run. (Well, more like a healthy jog since I don't like hustle culture.)  
We don't have to "go all in" in order to make a change.